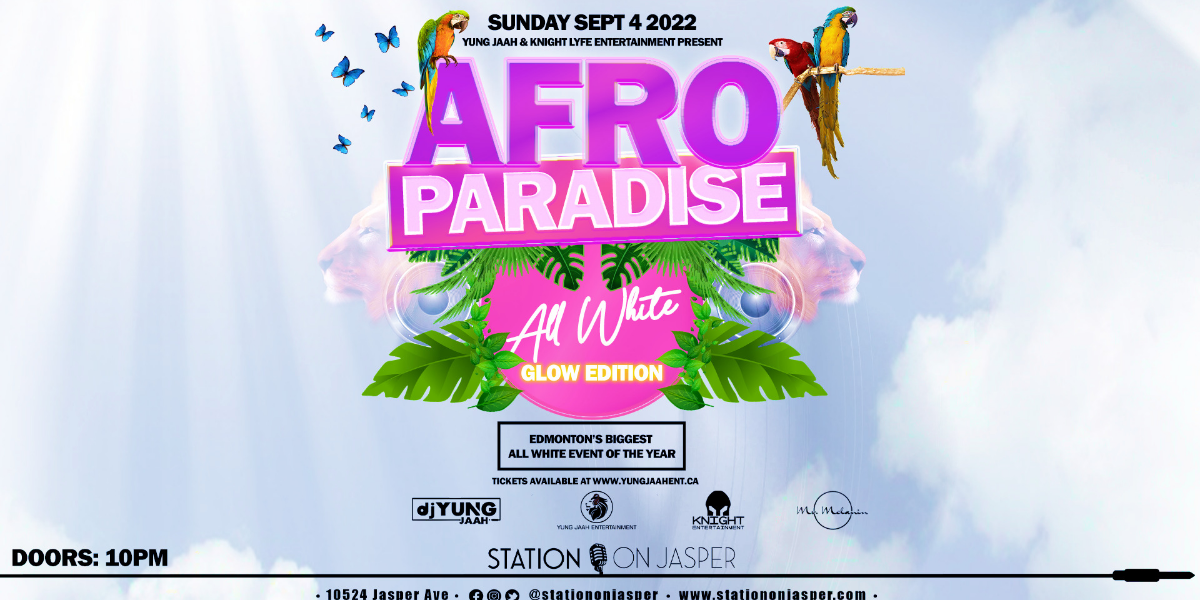 AFRO PARADISE - All White (Glow Edition)
Sunday, September 04 2022
Sunday September 4th
Yung Jaah Entertainment & Knight Lyfe present...
AFRO PARADISE - All White (Glow Edition)
You want to Bamba? Are you ready to chill like a big boy? Say no more.

The Fourth Annual Afro Paradise All White Party is here; the biggest party in all of Alberta.
The experience will be nothing short of exciting, unforgettable, and thrilling. An energetic encounter beyond your imagination. Your wildest dreams come true. The music, the lights, the sound, and most of all the vibes and energy shall transcend the realms of reality. We will take you to a place like no other and push your limits as you experience nothing but pure and unadulterated enjoyment. We will captivate you from start to finish and at the end, leave you wanting more. We will have you screaming till you can't scream anymore. Dance till your feet and legs give out.
So, what are you waiting for? Book your time off. Buy your tickets. Book your hotels and Airbnb.
Book your place at the Afro Paradise All White 2022!

ADVANCE TICKETS
Early bird $20
General Advance $30
10:00PM - 2:00AM MDT
$20.00 - $30.00
Station On Jasper