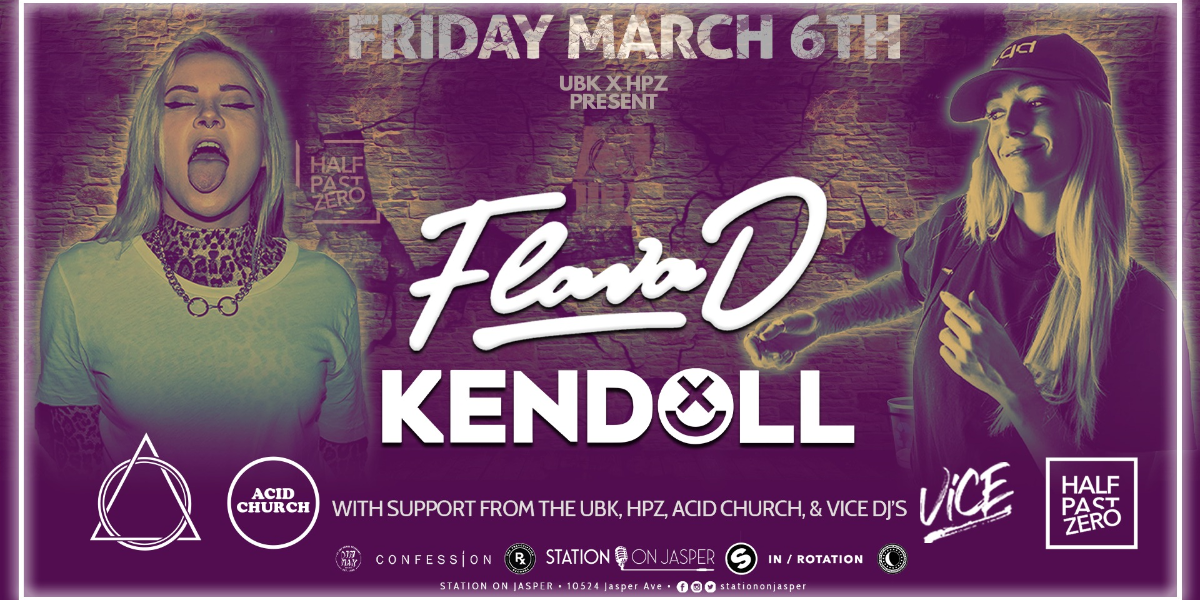 FLAVA D & KENDOLL
Friday, March 06 2020
Friday March.6th
UBK x HPZ present...

• FLAVA D • (NIGHTBASS // TQD - UK)
=============================On the face of it, the Bournemouth born Flava D's outlook on her career seems pretty simplistic: she likes to make music, constantly. And although there's undoubtedly a whole lot more planning and thought that goes into the thinking behind the timing and positioning of her releases, she's maintained the purity of that initial enthusiasm and it's helped her go from selling bundles of short loops on Myspace to headlining club nights and festivals and releasing well received album projects (such as her FABRICLIVE 88 mix and the t q d album ukg) in a matter of six short years.
Ever since the appearance of 'Hold On', her 2013 debut release on the Butterz label, Flava D's ably established herself as a player working in that furtive arena where garage, grime and bassline music intersects. More than adept at making the wonderfully smooth and bumpy UKG of tracks like 'More Love', she's also demonstrated a knack for producing harder hitting club cuts like 'In the Dance' and her remix of 'Rhythm & Gash'. It's precisely that kind of widened scope she explored and demonstrated to the fullest in the making of FABRICLIVE 88 when she set herself the task of producing 90% of the music used on the mix herself.
As a core part of the Butterz camp she's found a crew that's positively blossomed from the incorporation of her music and as a result of that relationship she's collaborated with luminaries like Wiley and My Nu Leng, toured the globe and [possibly more importantly] been afforded a position where she's encouraged to just make music, constantly.
• KENDOLL • (NIGHTBASS // IN ROTATION - US)
===============================
Kendolls music pushes the boundaries of bassline house with a mixture of heavy UK groove. She started her career off in Seattle, Washington at the age of 17 and took the whole city by storm. Within a couple of years, Kendoll started smashing dance floors around Portland, Santa Barbara, and all of Seattle. Releasing tracks on Four 40 records, Build It records, Audiophile XXL, OKNF, and 3000 bass, Kendoll has had a steady release schedule putting out tunes all around the spectrum of house music. This girl has recently been making quite a few appearances on Space Yacht lineups in LA for acts such as Golf clap, Dateless, Codes, Kill Frenzy, and Eyes Everywhere.



with support from the UBK & HPZ DJ's

ADVANCE TICKETS
Earlybird -> $15 + Service Charges 
GA -> $25 + Service Charges
UBK DJ's/Promoters

DOORS: 9pm
SHOW: 9pm
18+ ID Required
9:00PM - 2:00AM MDT
Station On Jasper