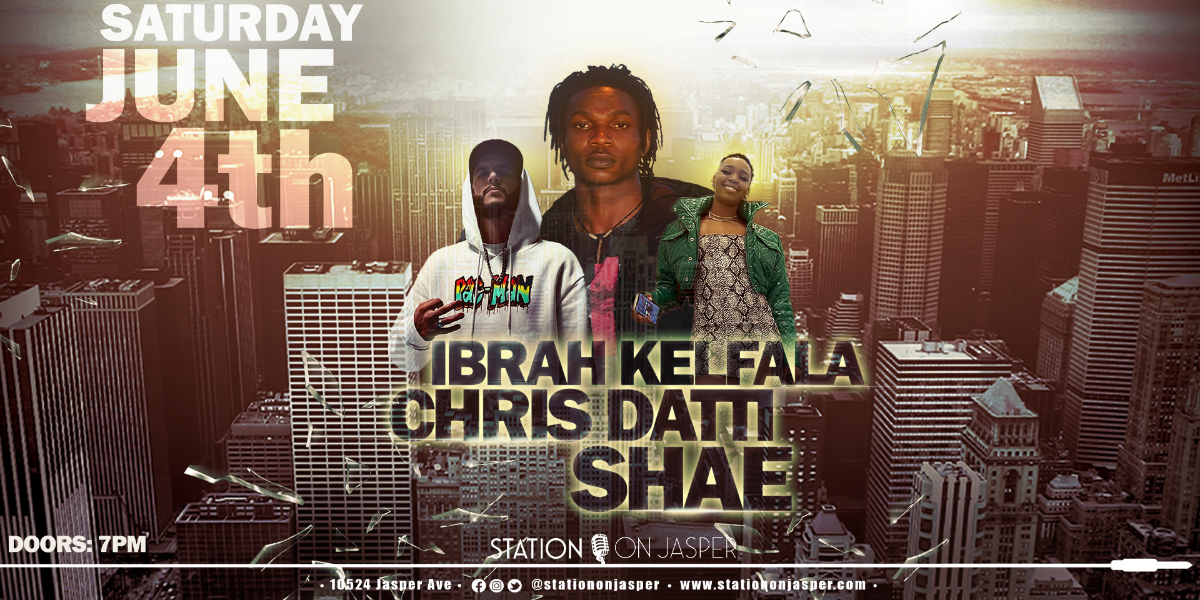 IBRAH KELFALA • CHRIS DATTI • SHAE - The Experience
Saturday, June 04 2022
Saturday June 4th
Ibrah Kelfala Presents,
An Experience By Ibrah Kelfala, Chris Datti and Shae
Tickets $10

This experience is a way for these amazing artists to share with you, the audience, a compilation of their best songs. Ready To Get You Grooving And Moving While Learning A few New things Like Slangs And Possibly Walking Away Having Discovered Your New Favourite Artist or Artists

Ibrah Kelfala
Is a 25 years old versatile musician hailing from Freetown, Sierra Leonean but currently residing in Edmonton. His Discography ranges from Rap to Afrobeats to dancehall to reggae and even RnB, he can do it all... so it's never really a dull moment when he's on stage. The MC has been recording for about 4 years now and loving every bit of the journey/process, the growth in my sound and just life in general is unexplainable yet Very Prominent in his Songs and His Stage Presence. With The Show Just Around The Corner He Bid, " Edmonton Come Share/Tap Into My Energy/Frequency!, See You All On June, 4th

SHAE
22 year old Canadian South African artist who specializes in R&B music as well as Amapiano, & occasionally rap. She also loves to express meaning to her music in a way that captivates the attention of the listener. She likes to focus on good vibes & good music. Her goal is to create happiness and excitement through her music while also forming connections and love with people around the world.


Chris Datti 
Hip Hop artist out of Edmonton Alberta. Chris hit the scene with his debut music video "On my way" in 2021. Known for his heavy lyricism and dynamic flow, he is consistently perfecting his skills on the mic doing live performances. He has worked with notable artists such as A-F-R-O, and Tinywiings. Chris Datti is quickly becoming one of Edmonton's hottest hip hop acts, and a must see live performance.

7:00PM - 10:00PM MDT
$10.00
Station On Jasper