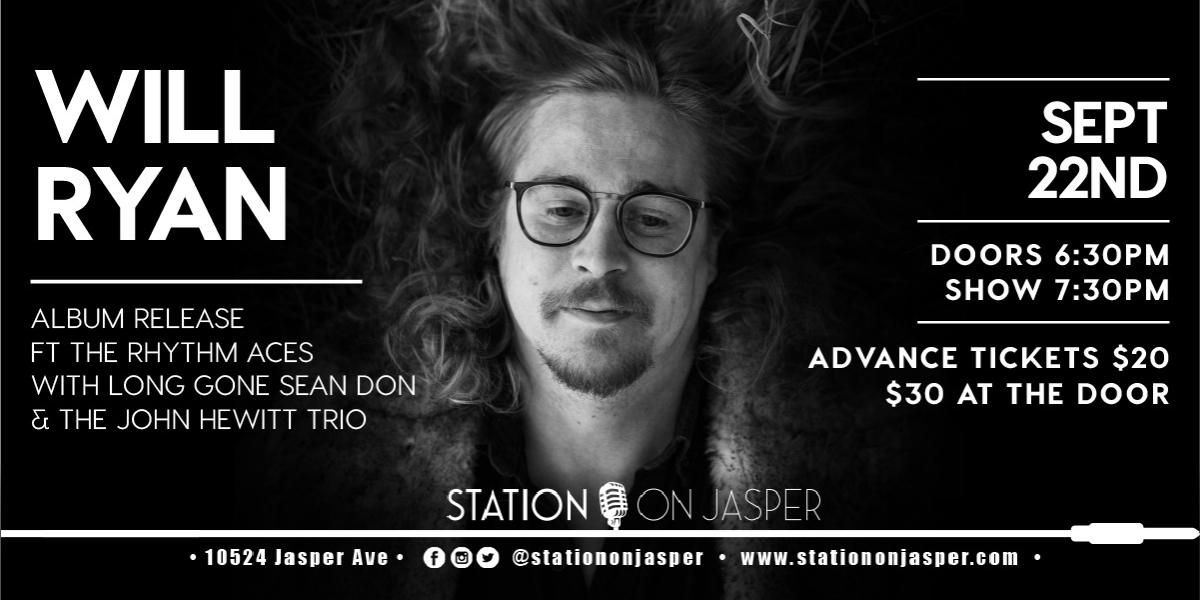 Will Ryan Album Release ft. The Rhythm Aces and Guests
Thursday, September 22 2022
WILL RYAN 
Will Ryan's music is as mysterious and powerful as the era it seems to have come from. Heartbreaking ballads and stories of times that were tough on the mind and soul. With every ounce of energy put into this unique modern style it's almost as if there is a new kind of folk revival. One where "Way on Down the Mountainside" Becomes the pinnacle of what the whole scene could be about. Folk and rock troubadours donning fringe jackets and singing cowboy songs with a 1960's reverb caressing the pedal steel that fills in all the holes. House carpenters, canola fields, lonesome valleys, murder ballads, love songs and funeral dirges with religious overtones Will Ryan's music is as mysterious and powerful as the era it seems to have come from.
LONG GONE SEAN DON
Sean Stephens is the brainchild behind the whole underground-tenor-guitar-traditional-music-and-songs-about-refrigerator-scene. A local Edmonton staple on stages of any kind he has become the warm and welcoming face of four string commorodorie. Sean's self-titled album "The Great North Blues Band" went on to win the Edmonton Music Award for Blues/Jazz recording of the year. Sean has been a long time friend and collaborator with Will Ryan and performed bass duties on his debut album "Way on Down the Mountainside" in 2022.
JOHN HEWITT 
With a voice and pen that echoes the phrases of Dylan, the delivery of Van Morrison and the coolness of Tom Petty, John Hewitt is a force to be reckoned with. As a songwriter he involves the abstract imagery of the Beat Poets, as a performer he adds the energy of the Beatles and as a producer he creates sound waves inspired by the greats such as Brian Wilson and Phil Spector. With three releases under his belt since March 2020 he's set to hit the major summer festival stages in 2022. A hungry force two years in the making, and a band behind him as his fuel you'll be mesmerized by the quality, the content and its authenticity.
7:30PM - 11:00PM MDT
Station On Jasper